2022 | 2021 | 2020 | 2019 | 2018 | 2017 | 2016 | 2015 | 2014 | 2013 | 2012 | 2011 | 2010
November 2017
CBCA Welcomes New Law Clerks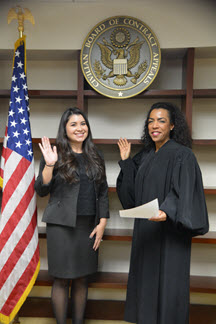 Ms. Caitlin Crujido is a 2017 graduate of the American University, Washington College of Law, where she served as an Articles Editor on the American University Law Review. While in law school, Ms. Crujido interned with the Department of Labor's Office of Federal Contract Compliance Programs, where she participated in the rulemaking process, and the Federal Tort Claims Act section of the Department of Justice, where she assisted with administrative claims. Ms. Crujido was a summer law clerk with the U.S. Civilian Board of Contract Appeals in 2016 and spent her final year of law school working in the Government Contracts practice group at Arnold & Porter Kaye Scholer.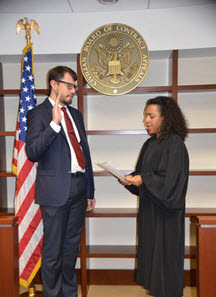 Mr. Gonzalez is a 2017 graduate of the George Washington university law School, where he focused on government contract law. While in law school, he interned at the Small Business Administration's Office of the Inspector General, the Department of Justice's Civil Rights Division, Section on Coordination and Compliance, and the Department of Labor's Division of Management and Administrative Legal Services in the Office of the Solicitor. Prior to law school, Mr. Gonzalez was a cook at various restaurants in Atlanta and D.C. and completed a master's degree in philosophy at Georgia State University.
October 2017
New CBCA Chair and Vice Chair Appointed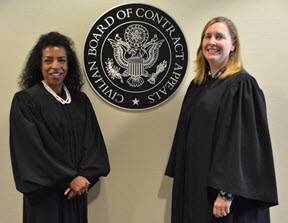 Judge Jeri K. Somers was appointed by the Acting Administrator of General Services to be the new Chair of the CBCA effective October 1, 2017. The Acting Administrator also appointed Judge Erica Beardsley as the new Vice Chair of the CBCA effective on the same date. Judge Somers previously served as a Judge Advocate with the United States Air Force, an Assistant United States Attorney, and a judge on the Department of Transportation Board of Contract Appeals. She became a member of the Civilian Board at its creation on January 6, 2007, and was appointed its Vice Chair on June 8, 2008. Judge Beardsley was previously a partner at a law firm, and a trial attorney with the U.S. Army. She was appointed as a member of the CBCA on May 29, 2016.
September 2017
Longtime CBCA Chairman Stephen M. Daniels Retires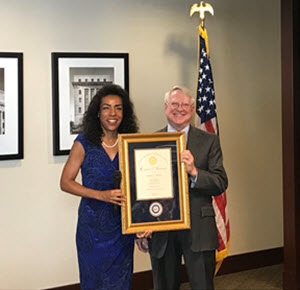 The founding, and longtime, Chairman of the United States Civilian Board of Contract Appeals (CBCA), Judge Stephen M. Daniels retired on September 30, 2017. Judge Daniels earned his Bachelor's Degree cum laude from Yale University in 1968, followed by a Juris Doctor degree from Yale in 1972. Following law school he served as a commissioned officer on active duty in the United States Army from 1970-71. After completing his Army service, Judge Daniels worked at the U.S. Department of Health, Education, and Welfare in 1969-70, followed by a stint at the U.S. Office of Management and Budget in 1971. Moving from the executive to legislative branch of the Federal Government, Judge Daniels became counsel to the U.S. House of Representatives, Committee on Government Operations. He went on to serve as the committee's Assistant Minority Counsel from 1973-80, Minority Counsel from 1980-84, and Staff Director from 1984-87. Judge Daniels was appointed to the General Services Board of Contract Appeals (GSBCA) on August 31, 1987, and elevated to Chairman of the GSBCA on December 22, 1992. When the Civilian Board of Contract Appeals was created by Act of Congress on January 6, 2007, combining the eight existing civilian boards of contract appeals into one, Judge Daniels became a member and the CBCA's first Chairman. Over the next ten years Chairman Daniels oversaw the combined Board and successfully melded the eight separate boards of contract appeals into one board. In addition to his federal service, Judge Daniels has been active in his community, serving on the Capitol Hill Community Foundation and Barracks Row Main Street, a community development organization in his neighborhood.
The CBCA held a retirement celebration for Chairman Daniels at the Board's offices on September 29th. In attendance were many friends and colleagues from the government contracts bar, other boards of contract appeals, and the General Services Administration (GSA). The GSA Chief of Staff, Mr. Jack St. John, delivered thanks to Chairman Daniels for his 51 years of Federal service, including 30 years as a judge. Mr. St. John also read a letter of congratulations to Judge Daniels from the President of the United States. In honor of his many accomplishments, his service to the legal profession, and his ten years as Chairman of the Board, the CBCA has renamed its courtroom one as the "Judge Stephen M. Daniels Courtroom." The judges and staff of the CBCA, both present and past, wish Chairman Daniels many years of happiness and joy in his well-earned retirement.
May 2017
Summer Law Clerks Join CBCA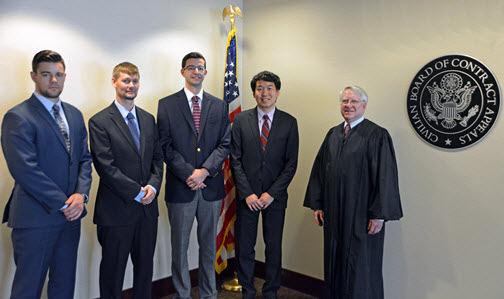 The 2017 Summer Law Clerks are shown after being sworn in by CBCA Chairman, Judge Stephen Daniels. As part of the summer program, the law clerks conduct legal research; attend hearings, mediations, and status conferences; and draft all manner of legal documents, including opinions, orders, and memoranda. They are, from left to right, Connor Luff of George Washington University Law School, Thomas Steinfeldt of Tulane University Law School, William Fletcher of American University, Washington College of Law, and Jimmy He of George Washington University Law School.
May 2017
Honors Attorney Takes Oath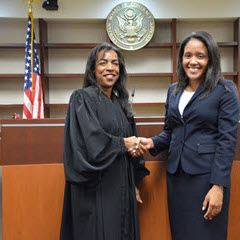 The CBCA was pleased to be able to host the swearing in of a new member of the Bar recently when Honors Attorney Viviana Lowe was administered the attorney's oath for the State of Florida by CBCA Vice Chair, Judge Jeri K. Somers. With a full house of CBCA staff and judges as witnesses, Ms. Lowe took the oath in the Board's Courtroom 1. Ms. Lowe is a 2013 graduate of Florida International University, magna cum laude, and Phi Beta Kappa; and a May 2016 graduate of the George Washington University School of Law where she was the Notes and Projects Editor of the Public Contract Law Journal and winner of the Excellence in Written Advocacy Award in the government contracts moot court competition.
January 2017
CBCA Celebrates Ten Years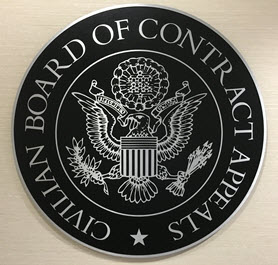 The Civilian Board of Contract Appeals (CBCA) recently marked ten years since it was established by Act of Congress in the National Defense Authorization Act of 2006. That Act abolished existing boards of contract appeals for most civilian agencies, folding their judges, staff, and jurisdiction into the new CBCA. In the years since its creation, the CBCA has docketed more than fifty-six hundred cases and resolved over fifty-three hundred of them. Nine of the original judges from the prior Boards have moved on to retirement or other pursuits, and one has passed away. Seven new judges have been appointed to the Board. Over the last ten years the Board has also hosted fifty-seven law clerks from law schools near and far, and more recently, seven honors attorneys, new graduates who serve one year with the Board. Our clerks and honors attorneys have gone on to positions throughout the government contracts bar, and one former law clerk has come full circle, being among the seven new judges appointed to the CBCA.
Judge Richard C. Walters Retires
The judges and staff of the CBCA recently bid farewell to Judge Richard Walters on the occasion of his retirement after 25 years of Federal service, and a legal career stretching past 45 years. Judge Walters graduated cum laude from the University of Pennsylvania Wharton School with a Bachelor of Science in Economics. From there he went on to attend the University of Pennsylvania Law School, where he served on the Moot Court Board. Over the next twenty years, Judge Walters' career spanned both government service and private practice. He served with the Department of the Navy, followed by several law firms ending with Piper & Marbury where he practiced until 1997, when he became a Dispute Resolution Officer with the Federal Aviation Administration's Office of Dispute Resolution for Acquisition. He served with the FAA until 2004, when he became a member, and eventually Vice Chairman, of the Department of Veterans Affairs Board of Contract Appeals, where he served until that board became part of the newly established CBCA in January 2007. Throughout his career Judge Walters made alternative dispute resolution a key facet of his practice, and he became a well-known expert in the area as it evolved from novel to normal in government contracts law. He served in many positions on the Interagency ADR Working Group, including Chairman, and authored numerous articles on ADR, as well as government contracts and construction law. He was also editor for several editions of Alternative Dispute Resolution: A Practical Guide for Resolving Government Contract Controversies. Judge Walters also served as co-Chair of the ABA Public Contract Law Section, ADR Committee, and president of the Board of Contract Appeals Bar Association. Judge Walters was a valued colleague and friend for just a handful of days short of ten years at the CBCA, and the judges and staff of the CBCA wish him all the best.