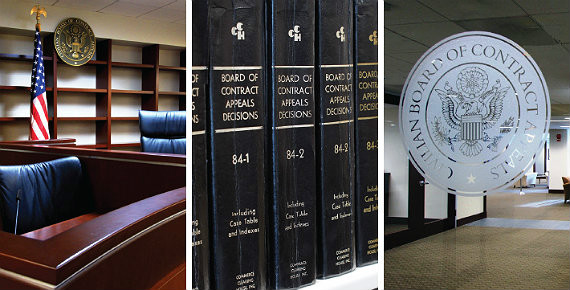 The Civilian Board of Contract Appeals (CBCA) is an independent tribunal housed within the General Services Administration. The CBCA presides over various disputes involving Federal executive branch agencies. Its primary responsibility is to resolve contract disputes between government contractors and agencies under the Contract Disputes Act. For a full discussion of the CBCA and its jurisdiction and history, please see About The Board. For recent news, please see CBCA News.
The CBCA Clerk's Office is open to the public and will sign for or certify receipt of mail or packages and accept in-person deliveries. Nonetheless, we still encourage all litigants to file their documents electronically as provided for at "Filing Documents" under the "Filings and Proceedings" tab.
As for electronic filings (efilings), although the Clerk's business hours are from 8:00 a.m. to 4:30 p.m., the Board considers efilings sent after 4:30 p.m. up to midnight Eastern Time as same day filings. Efilings received after midnight (12:00:00 a.m.) Eastern Time are considered filed the next business day.
To efile protected documents, you must obtain permission from the judge for your case.
Parties may submit the Rule 4 appeal file via efile, provided that 1) There are no more than 10 total emails, each not to exceed 18 MB,
2) the index and each exhibit must be a separate PDF file, and 3) exhibit PDFs may not be merged or have embedded files. The CBCA also accepts Rule 4 appeal files and exhibits by in-person, courier, or mail (USPS/FedEx/UPS) delivery on a CD, DVD, or flash drive or by Secure File Transfer Protocol (SFTP). See Filing Documents tab for additional information on filing the Rule 4 appeal file or the submission guide for details on using SFTP.
With the exception of statutory deadlines, each judge has the discretion to modify the deadlines established in a specific case. Any statutory limitations on the time within which a filing may be made will NOT be waived or tolled.
If you have any questions about the Board's operations, contact the Office of the Clerk at 202-606-8800 or cbcaclerk@cbca.gov.
ANNOUNCEMENTS
The CBCA currently has a Board Judge position posted on USAJOBS. Interested candidates may review the qualification and application requirements [here]. The job posting closes on January 16, 2024.
| Decision Date | Case Number | Appellant / Claimant / Applicant | Judge | Type |
| --- | --- | --- | --- | --- |
| 12/05/2023 | CBCA 7761 | Real Lion Logistics Services Company | Chadwick | Decision |
| 11/30/2023 | CBCA 6987 | Stellar J Corporation | Goodman | Decision |
| 12/04/2023 | CBCA 6541, 6910 | MSK Construction, Inc. | Goodman | Dismissal |
| 12/01/2023 | CBCA 6453-R, 6560-R | BES Design/Build, LLC | Russell | Decision |
| 12/01/2023 | CBCA 7732-FEMA | Hobby Center Foundation | O'Rourke | Decision |
| 11/28/2023 | CBCA 7063, 7137 | H2O Construction Services, Inc. | Goodman | Dismissal |
| 11/22/2023 | CBCA 7902 | Interstate Meat Co., Inc. dba Sterling Pacific | Zischkau | Dismissal |
| 11/17/2023 | CBCA 7637 | Ben Holtz Consulting, Inc. dba California Avocados Direct | Kang | Decision |
| 11/21/2023 | CBCA 7463 | Johnson Controls Government Systems LLC | Kullberg | Dismissal |
| 11/21/2023 | CBCA 7920 | Optum Public Sector Solutions, Inc. | Sullivan | Decision |
| 11/09/2023 | CBCA 7557 | The Kmask Group LLC | Beardsley | Decision |
| 11/14/2023 | CBCA 7908 | Frontline Enterprises, LLC | Goodman | Dismissal |
| 11/08/2023 | CBCA 7667 | Trademasters Service, Inc. | O'Rourke | Dismissal |
| 11/09/2023 | CBCA 7187-C(5089, 5619) | Michael Johnson Logging | O'Rourke | Decision |
| 11/14/2023 | CBCA 6734, 6845 | Gilbane-Grunley Joint Venture | Russell | Dismissal |
| 11/08/2023 | CBCA 7600 | FMI Herndon Corporate Center LLC | Sheridan | Dismissal |
| 11/03/2023 | CBCA 7868-FEMA | Holy Name Medical Center | Sullivan | Decision |
| 10/25/2023 | CBCA 7858-C(5997, 6464) | SBC Archway Helena, LLC | Vergilio | Decision |
| 10/30/2023 | CBCA 7833-C(7472) | GC Works, Inc. | Vergilio | Decision |
| 10/31/2023 | CBCA 7163 | ATS Trans LLC dba Around the Sound/TransPro | Zischkau | Dismissal |
| 10/26/2023 | CBCA 7792-FEMA | Nueces County Hospital District | Zischkau | Dismissal |
| 10/30/2023 | CBCA 7885-RELO | William S. | Lester | Decision |
| 10/24/2023 | CBCA 7692 | Wesley McBride | Beardsley | Decision |
| 10/24/2023 | CBCA 5967, 6614, 6952 | Facility Defense Consultants, Inc. dba Hanke Constructors | Goodman | Dismissal |
| 09/29/2023 | CBCA 6995 | Inter-Con Security Systems, Inc. | O'Rourke | Decision |
| 10/20/2023 | CBCA 6795 | Grand Strategy, LLC | O'Rourke | Dismissal |
| 10/23/2023 | CBCA 7810-FEMA | New York Foundling | Chadwick | Decision |